A short drive from your home, there are ample opportunities for adventure.
The Nandamojo Valley closer to home, in our valley. 
Guanacaste is home to a number of national parks and protected areas offering windswept mountains, active volcanoes, virgin forests, hot springs, mud baths, tourmaline pools, limestone caverns, vast wetland bird sanctuaries and alligator tours for the truly fearless.
The Pacific Coast offers world-class sport fishing, excellent surfing, solitude of long walks on deserted beaches as well as the pleasant routine of a cool beverage while enjoying yet another spectacular sunset.
Nicaragua—Hours from Pueblo Verde is one of the oldest cities in the Americas, Granada, Nicaragua. Replete with history, the cobblestone streets echo with the sound of horse drawn carriages passing colonial era buildings of thick adobe walls, inner courtyards and hand-hewn beams. It is situated on a vast lake with island archipelagos including Isla Ometepe with it's twin volcanoes. Closer to home, in our valley, there are plenty of opportunities for active appreciation of our natural surroundings. Close by we have waterfalls, horseback riding, boat tours in the estuary, secret swimming holes in the river, snorkeling at white sand beaches, bird watching with trained guides and nighttime turtle patrols for the more intrepid nature lovers.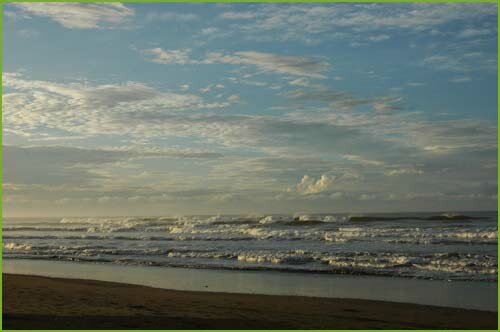 Local Beaches
Playa Negra – Barreling right hander – 3 miles north
Playa Avellanas – 3 Breaks – Left hand reef, river mouth (right left) and little Hawaii – right hand reef- 8 miles north
Playa Junquillal – Barreling beach break – 1 mile
Playa Blanca – Great snorkeling – 1 mile
Tamarindo – 2 River Mouths – 16 miles north
Playa Grande – Great Beach Break – 18 miles north
Witches Rock/Olie's point – Beach break and right hand point – take boat to get there (1 hour drive from us)
Marbella – Both left hand reef and various beach breaks – 15 miles south
Ostional – Incredible barreling beach breaks (only up to 7-8 foot faces) – 20 miles south
Nosara (7 miles of beach breaks) – Very consistent and shows great size with North swells – 25 miles south

 
Area Restaurants
Playa Junquillal and our neighboring communities offer countless dining options that are sure to rival your favorites back home. From beach bars to fine dining, there's something for everyone.
Here is a list of area restaurants, websites if available, and phone numbers.
• Adriana's Beach Bar, Junquillal, 2658-8432
• Amigos, Junquillal 2658-8393 or 2658-7227 (closed Mondays)
• Bar Latino, Paraíso, 2658-8152
• Cafe Playa Negra, Playa Negra, 2652-9351 (closed Tuesdays)
• Guacamaya, Junquillal, 2658-8431
• Hotel Playa Negra Bar & Restaurant, Playa Negra, 2653-4389 or 2652-9134
• Iguanazul, Junquillal, 3658-8124
• Jalapeno Taco Grill, Playa Negra, 25629270
• Kon Tiki, Playa Negra, 2652-9117
• Las Tuquitas, Rio Seco, 2658-8367
• La Ventana Café, Playa Negra, 2652-9197
• La Vida Buena Pizzeria, Playa Negra, 2652-9082
• Lola's, Avellanas, 2752-9097
• Mary's Place, Playa Negra 2653-4123
• Mauna Loa, Avellanas, 2652-9012
• Mundo Milo, Junquillal, 2658-7010
• Tatanka, Junquillal, 2658-8426
• Villa Deevena, Playa Negra, 2653-2328
• ZERU Restaurante, Marbella, 2682-8092