The philosophy behind our motto, "Neighbors with Nature", extends beyond the borders of our project. We have initiated or collaborated with several ongoing programs to help ensure that Pueblo Verde is a leader on the path to a healthier, more sustainable future.
Restoring Our Watershed (www.ourwatershed.org)
A long-term project designed to restore both the forests and the year round flow of the Rio Nandamojo, the main watercourse in our valley. Pueblo Verde has provided financial and logistical support for community workshops and education and is building momentum towards a community-based land use management plan. We feel that a greener valley is in our long term interest.
Proyecto Nandavi
Funded by the U.S. Fish and Wildlife Service and Pueblo Verde, this two-year study of migratory bird habitat in our valley included an inventory of birds and restoration of avian habitat within Pueblo Verde. An extension of the grant is under consideration and if approved will provide funding to plant 50,000 trees to help provide habitat and protect the streams and rivers of our valley. Most of the trees will be raised in the nursery at Pueblo Verde.
Mangrove Conservation
The spectacular estuary at the mouth of the Rio Nandamojo extends for nearly a square mile. A treasure trove of biodiversity inhabits the mangrove forest and aquatic eco-systems. Pueblo Verde continues to support the community association of nearby Playa Junquillal, with funding, signs and other support, in its efforts to protect the estuary and have it officially declared a wildlife refuge.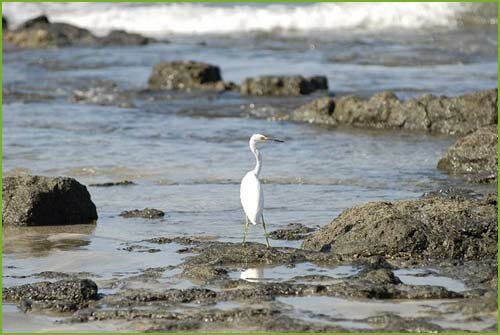 Playa Junquillal Reforestation
Surging out of a concern to shade the nests of sea turtles, the community of Junquillal has embarked on an ambitious effort to reforest the 50-meter wide in-shore strip which parallels the beach and belongs to the state. Pueblo Verde has been instrumental in planning and will be contributing trees, financing and other forms of assistance to this important conservation effort.
Junquillal Sea Turtle Project – Proyecto Conservación Baulas del Pacífico de Junquillal (CBP-WWF) 
Based on three years of patient research, the Junquillal sea turtle Project now features regular patrols along the beach, thorough documentation of arrivals, nesting and hatch rate, and an egg hatchery located near the community park. Equally important, the project has raised awareness of conservation in the community and motivated youth to both join in and continue learning about the importance of environmental protection for their future.