The Organic Farm in Playa Junquillal

Growing food in Costa Rica is a challenging endeavor due to extreme weather conditions, lackluster soil, and various pests, to name just a few hurdles local gardeners must face. Nearby, between the communities of Paraíso and Junquillal, the Mi Tierra 10-acre organic farm overcomes these challenges and produces food organically for area residents. Having spent the last several years in research and development of the farm and locally  successful methods of food production, the farmers are now sharing the fruits of their work.
With the help of full time farm manager, Elias Rodriguez, and the experience of Pueblo Verde developer and ecologist, Tom Peifer, Mi Tierra teaches area residents about what crops we can grow in these challenging conditions while expanding farming into an enterprise that generates revenue, creates local jobs and optimizes land use while enriching the soil.  The farm is enjoying great success at an organically produced spinach, as well as bringing peppers, cucumbers, arugula, watermelon, and basil to the marketplace. Even more Mi Tierra local produce and specialty items are available at the Plaza Tierra Pacifica Welcome Center, where the farm's products are available seven days a week.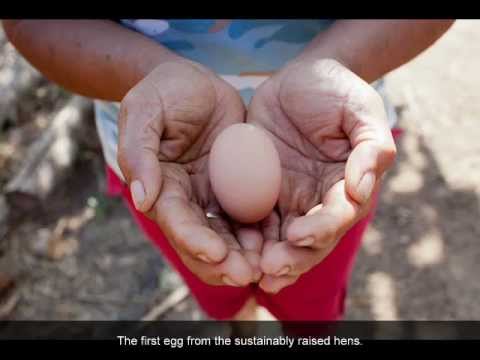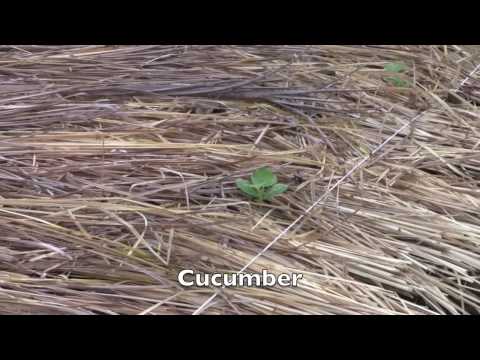 This video shows what has been growing and how it's done—and gives you a chance to meet Elias, who grew up in Paraíso in a farming family. Combining his knowledge and experience with the local push for organically-grown food, he's honoring his farming heritage and making a sustainable living from the land. His vision for Mi Tierra? "Remembering the past while cultivating the future."
How to Transform Local Food Systems in 3 Not-So-Easy Steps
The Mi Tierra farm partners with a local non-profit organization (Restoring Our Watershed) in service of its mission to restore the 28,000 acre watershed where Pueblo Verde is located.
1. Access, improve and gain long-term, cost-effective control over productive land so local farms can sprout.

Mi Tierra and Restoring Our Watershed recently established a new no-interest micro-lending program. In its first 6 months, the program has provided loans to a honey producer, egg producer and another vegetable grower to help them employ their land more productively.

2. Grow the market incrementally by boosting supply, then demand, then supply and so forth.

The first outlets for local produce were Supermarket Junquillal and the Tierra Pacifica Welcome Center. Then came Los Pargos farmers market, and now local restaurants and hotels in our area of Guanacaste. Micro loan producers have secured contracts with local restaurants. E-newsletters are reaching new customers. This year, demand for local food is outstripping supply. Next year, more local farms!
3. Help new and existing farmers access skills and resources to serve the local market.
In Costa Rica, we are expanding the micro-loan program and are beginning to plan for farm education and consulting, peer-to-peer exchanges, and cooperative infrastructure.
One of ROW's key goals has been to establish a micro-lending program to stimulate local food production. In August 2011, we gave out our first loan to help several local residents purchase beehives. The new beekeeping operation will provide a sustainable source of income for two families, with the first harvest expected this December. Honey production is an ideal first project as there's strong local demand for the product, a good profit margin for the borrowers, and a beneficial effect on the environment.
Research and Development at Finca Mi Tierra
Good soil is also important when starting seeds and growing flowers or vegetables in containers. In these growing conditions, plants need soil that's lighter and more moisture retentive than even the best garden soil. Time and again we have found that the ideal growing medium is a blend of peat moss, vermiculite and perlite.
In the US, we have easy access to a number of different peat-based growing mediums and soil conditioners. But in Costa Rica, these materials are very expensive and difficult to find. Vermiculite and perlite are made from minerals that are mined in distant locations and their production requires high heat and industrial kilns. Peat moss is made from decayed, compressed sphagnum moss that's harvested from peat bogs 4000 miles away in northern Canada.
Without access to these excellent soil conditioners, it was hard to imagine how we could start seeds, garden in containers and lighten up the heavy clay soils that are so typical in Guanacaste. Fortunately, nature has provided a local alternative. We are learning that coir – the fibrous wa

ste product from the outer shells of coconuts – is a good substitute for peat moss, vermiculite and perlite. Throughout the tropics, coconuts are harvested for their water, meat and oil. Now their shells are proving to be valuable as well.
Finding effective soil conditioners is important for the success of Mi Tierra. This winter we discovered that 50-pound bags of compressed coir are readily available just a few hours away. Elias screened these blocks of compressed coir to remove lumps and create a uniformly textured growing medium that's perfect for seed starting, transplanting and growing in containers. Even the lumps are being put to good use. When mixed into the heavy clay soil, they lighten it and improve the tilth. This soil conditioning property is proving especially effective in areas where we transplant crops such as watermelons and squash.
Nature has given coir unique hydrological qualities. Under a microscope, each coir fiber looks like a bundle of straws. When coir absorbs water, it holds the moisture inside, rather than around these fibers. For this reason, wet coir doesn't really "feel" wet because most of the moisture is held inside the fibers.
All our tests with coir have been encouraging. We have had good results with a coir-based seed starting mix. Our tests using coir as a soil amendment for field crops also look promising. When mixed into the soil, coir lasts longer than compost or leaf mulch, which is an important benefit in tropical climates. Coir's unique microstructure also makes it more effective than peat moss for maintaining aeration and minimizing water logging.
Our highest hopes for coir are as a growing medium in container gardening. With the farm's generally poor soils and many challenges to making an adequate supply of compost, plus strong winds, torrential rains, soil diseases, insect pests and troublesome animals (iguanas, monkeys, opossum), we have come to the conclusion that to maintain a consistent output of produce, some crops need to be grown in containers.

In our current container growing trials we are comparing pure coir to the growing mix we've been producing ourselves for the past 5 years. We're also comparing several different organic fertilization protocols, including a slow-release organic fertilizer. We are growing in reused plastic rice bags linked to a drip irrigation system, and are experimenting with preformed cubes of compressed coir that are currently being used in the commercial greenhouse industry. If these tests are successful, the farm could significantly increase the amount of local, organic food it produces. Ideally we can be bringing fruit and vegetables to market 9 to 10 months per year rather than just 3-4 months. We invite you to come and take a tour of the Mi Tierra organic farm whenever you're in the area.