Joyful Ducks
from Ann Marie Titsworth, Lot #2 
Ducks are the most joyful creatures I have ever had the pleasure of observing. My husband, Matt, and I added ducks to our homestead exactly one year ago, with two pairs of Muscovies. In the way that things tend to happen here, a friend in a neighboring town called us one afternoon saying she had the ducks we had asked for. Neither of us remember seriously requesting that she find them for us, rather just mentioning that we were thinking about getting some. We traded the ducks for a few sacks of corn that we had (another long story) which she would then make into the traditional baked breads and snacks for Easter.
Once home, the ducks made it very clear that they wanted nothing to do with us and would be very happy to take their chances out in the forest. One of our females escaped and it took nearly an hour to corner and capture her again. The ducks then lived in a small enclosure that we improved over time with the element that has changed our homestead and lives – a water feature.
The "pond" started as a storage bin with a ramp. It was a little cramped. But they loved it.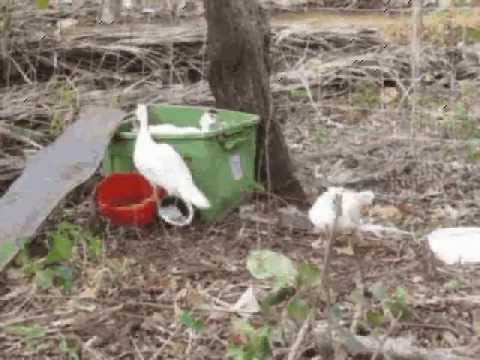 The water feature improved over time, as well as their trust of us and their surroundings, and clutches of ducklings started to hatch.
Our second breed of ducks arrived at our house as a half dozen eggs from a friend who had taken a trip home to Bermuda and brought them back (discretely, of course) to try in our incubator. Four of the six eggs hatched and our first Khaki and White Campbells began their mission – to eat. Nonstop. In a few months, the females will begin to lay as many eggs as one of our laying hens.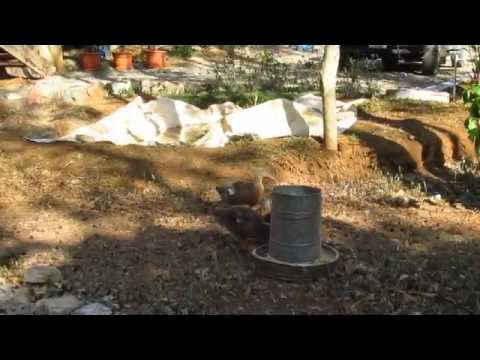 With nearly 20 ducks now free ranging on our small homestead (and on my many beds of brazilian spinach, grown for this purpose), it's amazing to think back to one year ago, when they first arrived. We have since learned how to process the adult males and have often shared the delicious meat with friends.  Each duck and drake is unique, with a personality that is expressed in the happiest greetings you can imagine between two animals.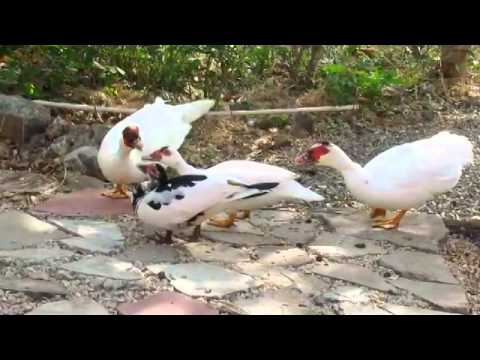 These beautiful, smart, and regularly joyful birds have won a special place in our hearts.