Last month, a second home was finished in Pueblo Verde and our community greeted its newest Neighbors with Nature, Matt and Ann Marie. Lot 2 construction began in late April and the main house, "Phase 1" as the new homeowners have called it, was finished mid-November. The design, a collaborative effort by Ann Marie and Pueblo Verde developer/builder Tom Peifer, was intended to be airy and open. It achieved its goal, despite relatively low square footage, with large windows and a high, clerestory roof. The "look" of the inside is a balance of "soft" and "hard"; routed wood and a curved countertop juxtapose metal structural elements and exposed beams. The kitchen countertop is one of the decorative highlights of the house: a monolithic, free-standing concrete wonder, buffed and epoxied to look like granite. "Phase 2" includes plans for a screened-in deck on the front and a bedroom-balcony on the side as a way to add more space for relaxing and entertaining.
The couple diligently photo-documented progress on their new home and have shared a slideshow of highlights from the six months of construction and their house inauguration party.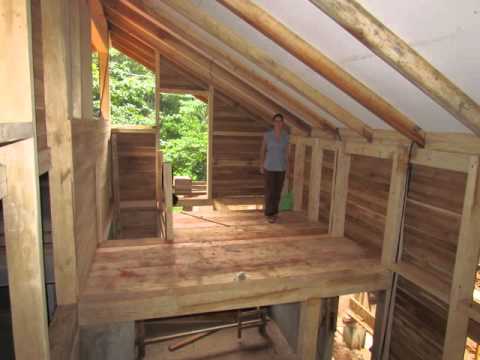 Our community continues to grow each year, welcoming new, sustainability-minded folks into the neighborhood. Pueblo Verde developers invite you to visit our wooded lots to dream about your tropical, green home in paradise. Contact us now to schedule your tour.